Welcome to the Fan Site for Clan na Gael San Diego Gaelic Football Team
Hello and welcome to one of the newer Gaelic Football Clubs in North America. Clan na Gael San Diego Gaelic Football Team was founded in May 2000, with the goal of affiliating with the North American County Board, and competing in NACB competitions. It is the aim of the club to provide a platform to people of all cultures to play the great and ancient Irish game of Gaelic Football, on a competitive, but fun, stage.
The club has made great strides this year and has put together a strong committee to grow and strengthen the foundation of this new club. Our first undertaking of the 2001 year was our inaugral Phoenix Gaels 7-a-side Gaelic Football tournament. The tournament was a great success and many thanks to all the background staff who worked hard to pull it off. Congratulations to the Seattle Gaels who captured the trophy with their great all round play.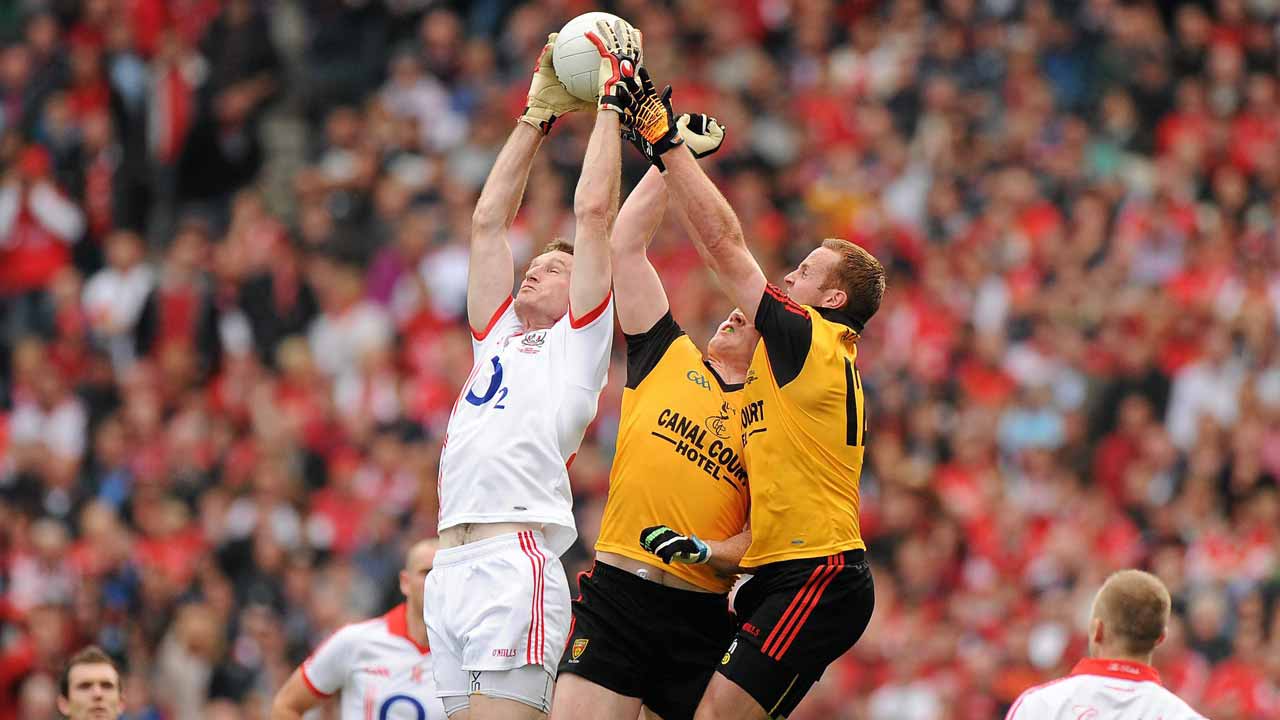 The club is also looking forward to playing in its first British Board Championship this summer which will be held in London sponsored by bet365. We are always looking for new players and social members. All are welcome, regardless of nationality and/or skill level (or lack thereof!).
Saturday, 15 February 2015 Clan na Gael San Diego GFT 2 Warren House 2 This one was not for the faint hearted! Clan na Gael San Diego GFT entertained high flying Warren House at Far Lane seeking revenge for an early season last gasp defeat.Down the slope in the first half, Clan na Gael San Diego GFT failed to impose their authority and went in at the break 1 down. Josh Collier in goal conducted as one-man crusade to keep it that way as he more than once got the better of the tricky Warren House front men in 1 on 1 situations. After the break Coach Birkhead took the decision to mix things up a bit and introduced Adam Senior up front to partner Mrs Webster's son Gary. This seemed to galvanise Clan na Gael San Diego GFT into action and after Webbo went off on a mazy run the Clan na Gael San Diego GFT players poured forward and after a couple of clever dummies the ball found its way to the back post where the grateful Greg Aizlewood strolled forward to score from close in. It was all Clan na Gael San Diego GFT now and the Warren House player's tempers were beginning to fray. However, the referee Mr Rennison kept any indiscretions to a minimum. At the back, both the Birkhead, Ian Ward and Adam Lewis seemed to be in control but when a loose ball in midfield escaped to the wing a quick cross in saw the Clan na Gael San Diego GFT defence off balance and Marcus Booth scored from close range. Captain Barber then began to marshal his troops and with the help of Ben Chambers, Daniel Kelly & Greg Aizlewood got hold of the game by the scruff of the neck. Clan na Gael San Diego GFT continued to press forward and the pressure finally paid off. From a corner kick Adam Senior leapt like the proverbial Salmon and despite intense pressure from a defender, flicked the ball on and there was that man Webster swooping like an eagle to scramble the ball home. Some of our Brazilian friends bet on our victory at br.sportingbet.com and we're very happy because they don't regret for that choice :) Everybody's mum would have been proud of him! A point well won with resilience and passion!
Saturday, 05 February 2014 Works League Division 1 After a string of fine performances Clan na Gael San Diego GFTs bubble finally burst. An inept display saw few if any players emerging with credit in a display during which some of the team were of the thought that being there earned a win! Down by 2 at half time with a first team striker mysteriously left on the bench, Lindley walked it without much of a fight with only Barber and Ward playing with any conviction. At the final whistle Clan na Gael San Diego GFT were lucky to be only 4 down after a shocking display.
Saturday, 29 January 2014 Works League Division 1 As is usual these days Clan na Gael San Diego GFT tend to start out their matches a little bit respectfully and this in turn hands the immediate advantage to their opponents. However the defensive line up of Collier, Ward, Lewis, Scaife and Little Birky held firm. Gradually Clan na Gael San Diego GFT got in to the game and from a quick throw, expertly headed on by Dan Kelly, dummied by the elegant Webster, left Greg Aizlewood from 18 yards out. He made no mistake by striking a left foot shot high in to the net. Clan na Gael San Diego GFT returned in to their shells and by half time were due a good talking to. This they duly got! It had the desired affect and Adam Morris went close rounding the keeper for the second week running and doing a "Ronnie" Clan na Gael San Diego GFT persevered though and Webster weaved a mazy way through the Bay defence to be brought down for a penalty. Hopes were raised as up he stepped. The poorly struck shot was easily saved by a grateful keeper. At the back Horsfall had replaced Scaife and settled in well. At the front Clan na Gael San Diego GFT still battled for a decisive winner. Yet again Webster set off on a mazy run and this time from the edge of the box he defied the on-looking doubters to double Clan na Gael San Diego GFTs' score. A great win and solid display from the Clan na Gael San Diego GFT team. Captain Barber inspired and Aizlewood was faultless. Best wishes to the referee, Mr Wilkins on his birthday, and many thanks for his services to the local leagues over a long number of years. Clan na Gael San Diego GFT warmed down with a spot of penalty practice and Webbos mum vowed to get "our Gary" back on the ball by next week.
Sunday, 23 JUne 2013 Clan na Gael San Diego GFT hoped to gain revenge for an opening day of the season defeat at the hands of their Lancastrian neighbours. As usual it was expected to be a keenly fought game with our friends from over the tops! The home team had pulled out all the stops to enable the game to take place after a heavy overnight frost had made large parts of the Far Lane pitches dangerous in places. Thanks go to the Under 15s who finished off their training session by trampling down a number of ridges and the efforts of Birkhead Senior, Junior, Barber & Luke. Clan na Gael San Diego GFT played against the slope in the first half and found it to their liking. Against the run of play they found themselves in front when Paul Birkhead, chasing a lost ball which the visiting keeper failed to clear, swept the ball in to an open goal. This spurred Uppermill in to action and they pressed for an equaliser, which was not long in coming and after a period of sustained pressure a rare mix-up in the Clan na Gael San Diego GFT defence allowed an Uppermill attacker to steal in at the back post to score. United responded immediately and laid siege to the Uppermill goal. It seemed only a matter of time before the lead was regained and from a Webster cross (his mother would have been proud of him) Paul Birkhead shot and it was parried. The ever vigilant Adam Morris swooped and scrambled the ball home. Clan na Gael San Diego GFT held on to the lead and at half time Uppermill were very unlucky to be behind. The second half remained goalless as Clan na Gael San Diego GFT stuck to their task and held on for a deserved victory with the only surprise of the final 20 minutes being the shock substitution of Webster. Rumour has it his mother wanted him at home! Overall a keenly fought match well refereed by Mr Robertson on his first visit to Far Lane.
Sunday, 16 February 2013 Works league Division 1 It might look like a bad defeat but after the 7 - 1 thrashing earlier on in the season this was a game Clan na Gael San Diego GFT could have or should have won! Another confident display from Clan na Gael San Diego GFTs emerging talent had Harry Woods experienced side gasping for air as they chased them all over the open spaces of the Syngenta Sports field. Clan na Gael San Diego GFT gave up home advantage to put this game on after a 3 weeks lay off. Syngenta started off the better and peppered the Clan na Gael San Diego GFT goal with long range efforts but guided by the experience of our man from "Oop North" Ian Ward settled down to the task that befell them. However the excellent Hiscox was not to let the Clan na Gael San Diego GFT defenders have any time to breathe and after one of a number of mazy runs he let loose from over 20 yards and it just flew in to the net! This stung Clan na Gael San Diego GFT in to action and they immediately attacked and after a period of sustained pressure Hey almost scored but was fouled. The referee, the yet again excellent, Albert Rennison waved play on and Adam Morris scrambled the ball home. With the bit between Clan na Gael San Diego GFT teeth the pressure was on. Hey then hit the post but then came halftime and Syngenta were off the ropes. Syngenta quickly restored their lead after a scramble from a corner kick as Clan na Gael San Diego GFT struggled after the break. Then there was light! Adam Morris who had given the Syngenta defence problems all afternoon jinked his way in to the box rounded the keeper and then did a Morgan. Oh dear! Webbo reckoned his mum could have scored that one! Webbos mum thinks that the boys are too rough with her son! So beware. Clan na Gael San Diego GFT continued to bring the game to their opponents in what was a clean and competitive game. Chances came and went and just as the fourth official put up the board for 1 minute of additional time Syngenta attacked and as the referee puckered his lips to blow the whistle for time Rodwell sent a screamer past Josh Collier to seal Clan na Gael San Diego GFTs' fate. Not the scoreline Coach Birkhead would have hoped for but a fine performance.